Consultation opens on the reporting of matters of material significance by auditors and independent examiners
Consultation opens on the reporting of matters of material significance by auditors and independent examiners
19 May 2016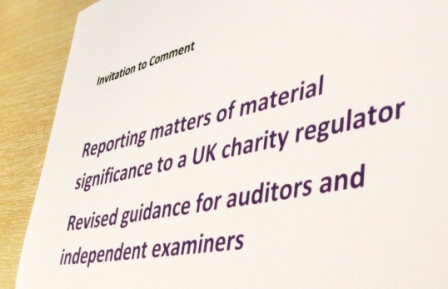 The Charity Commission for England and Wales (CCEW) and the Office of the Scottish Charity Regulator (OSCR) previously published a single list of matters to be reported to the regulators by Auditors and Independent Examiners which was consistent for England, Wales and Scotland.  The proposed new list of material matters to be reported to the regulators follows the establishment of the  Charity Commission for Northern Ireland (CCNI) and takes account of our experience of regulation to date. As such, now is an appropriate time to review the list of matters to be reported.
It is important to have a common list to simplify reporting requirements and ease the burden upon auditors or examiners acting for charities who work in multiple jurisdictions.   It also means that guidance to auditors and independent examiners can be consistent across jurisdictions.
The proposed guidance drops one of the existing 8 reportable matters and adds three new matters. The resulting 10 matters of material significance would be common to all the UK charity regulators. It is hoped that by including these extra matters, auditors and independent examiners will be clearer in the areas they should be reporting.
The new matters are areas where regulators have an interest and where it has been found that reports are not always made or, in the case of a modified audit opinion or qualified independent examination report, it provides early notification of the matter ensuring a more timely intervention. 
In Scotland this will complement the new notifiable events regime ensuring that both the charities themselves and the auditors and independent examiners are reporting to OSCR appropriately. 

Access to the consultation document can be found here.