Register
Published: 26/03/2019
Updated: 26/03/2019

You must register to complete an application.
If you have not registered, please click on the register to set up a new account link on the Welcome screen. Alternatively, you can click on First time Registration on the banner at the top of the page.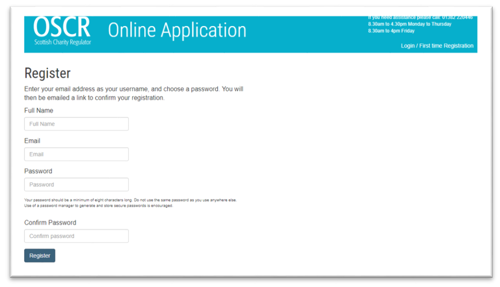 On the Registration screen, please enter your email address and choose a password.
Your password should be a minimum of eight characters long. Do not use the same password as you use anywhere else. Use of a password manager to generate and store secure passwords is encouraged.
You will then be emailed a link to confirm your registration. The email is usually sent very quickly, however you may have to wait. If you have not received the email please check the Junk/Spam inbox of your email account. You must click on this link in the email to complete your registration.
After you have registered, your email address will become your username.