Navigating the form
Published: 26/03/2019
Updated: 26/03/2019

After you have clicked Create a new application, you should answer the questions that appear on the online form.
You can navigate between the different sections of the form by clicking on relevant section in the column of the left hand side of the page. You will also move onto next section of the application form from the one you are currently on by clicking on the Save and Continue button.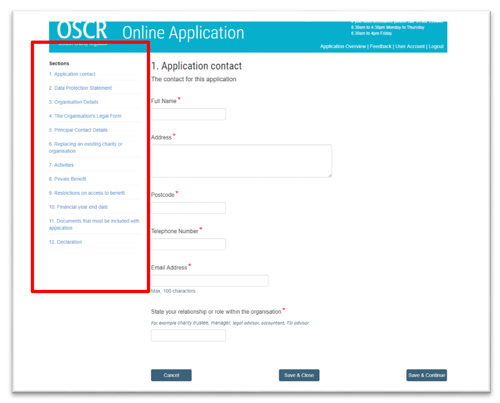 You will be asked to save your progress should you choose to navigate this way.
Elements of the form
You may see the following when completing the form:
| | |
| --- | --- |
| | This indicates a mandatory field, you will not be able to complete your application without putting in the appropriate information into these questions. |
| | Clicking this button will remove any information inputted into this section since it was last saved. |
| | Clicking this button will save any information you have inputted and close the application. You can go back into the application through the My Applications page. |
| | Clicking this button will save any information you have inputted and you will then be navigated to the next numbered section. |
| | Click here to read guidance on how to answer a particular question. We recommend you read these thoroughly before you provide an answer. |
Application overview and submitting the form
Once you have clicked Save and continue after '12. Declaration' you will be taken to the Application Overview.
You can also access this by clicking Application Overview in the top banner.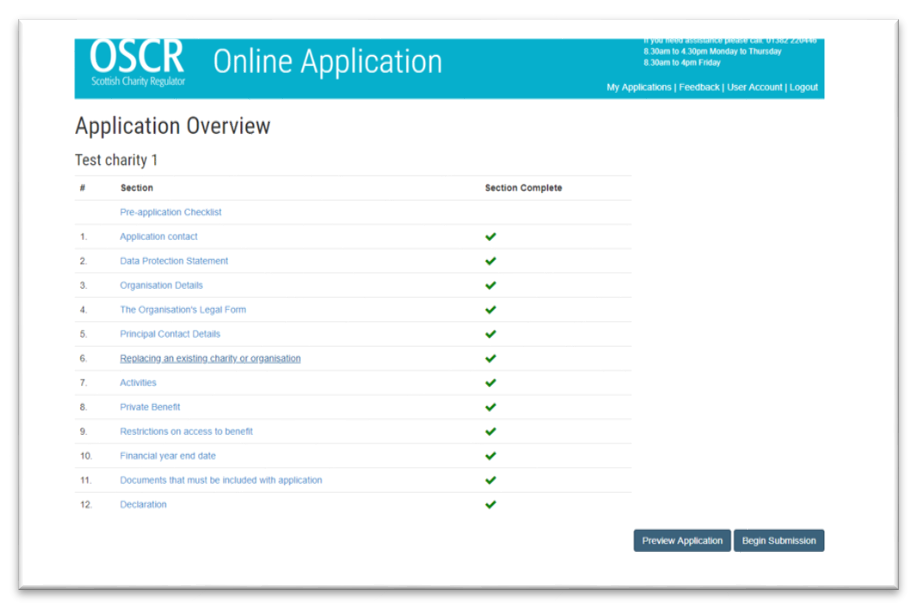 Sections that have a least one mandatory question that has not been answered will have an X next to them.  You will need to go back to these sections and complete the questions you haven't answered before submitting the form
Selecting Preview your application will load a pdf version of your application as it stands that you can review and print off.
Once there is a green tick next to every section the form will allow you to select Begin Submission.  Clicking this button will take you to the Preview application page.

On this page, you must click View PDF before the Submit Application button becomes available. After clicking View PDF, please ensure the PDF accurately reflects the data that you have submitted.
When you are happy with the information you have provided in your application, click Submit Application.