Our survey says… public trust remains stable.
24 May 2018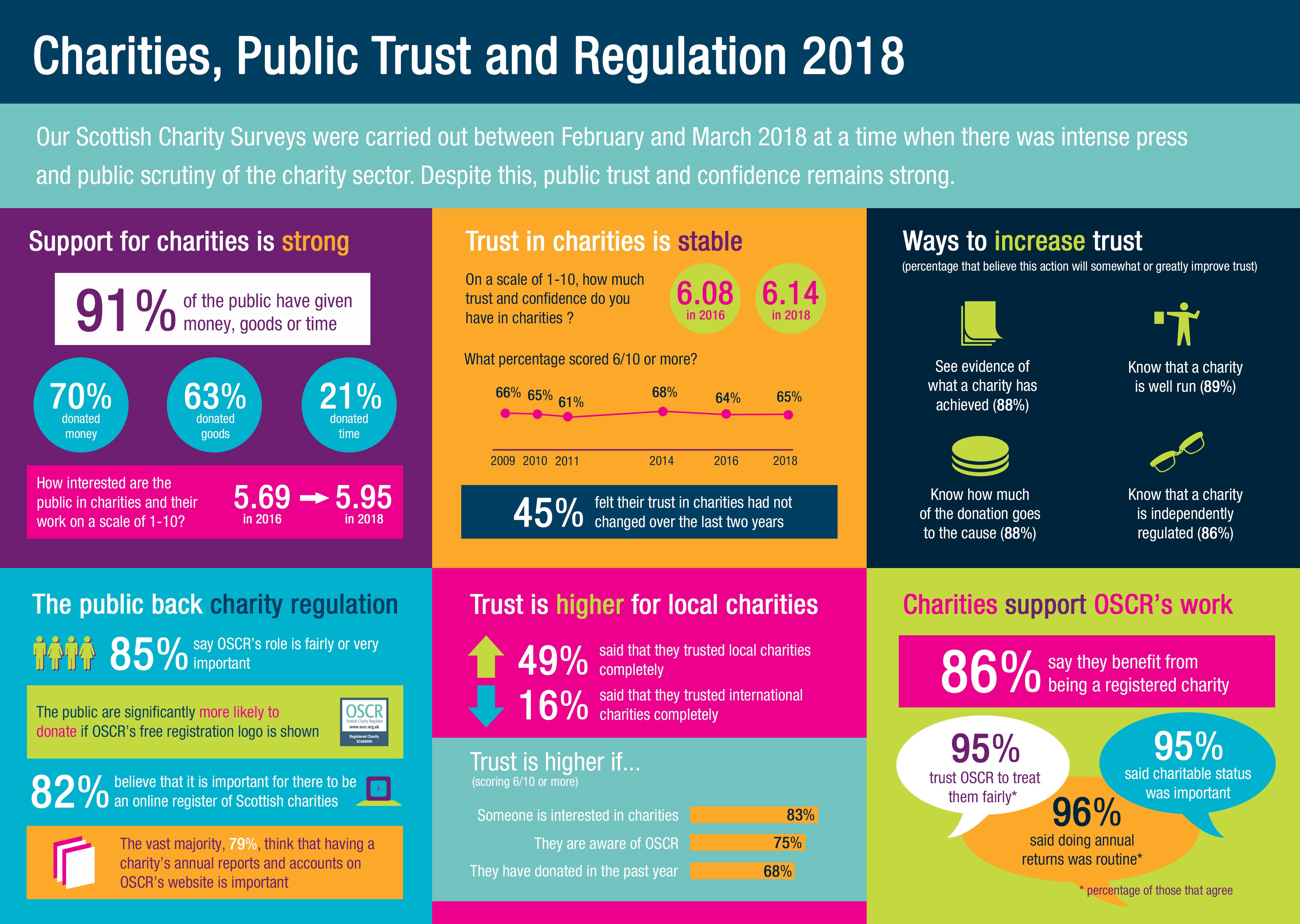 Two surveys published today [24 May 2018] show that the public's score for trust in charities has remained the same since 2016 and confirms support from both the public and charities for the Scottish Charity Regulator (OSCR) and its work.
OSCR commissioned the surveys to see how attitudes compared to 2016. In the reports, independent research organisation Progressive presents the views of 1,000 members of the public and 1,200 charity representatives as well as findings from public focus groups and in-depth telephone interviews with charities.

As in previous years, OSCR's stakeholder surveys asked members of the public whether and how they support charities; what levels of interest and support they have for charities; what issues of concern they had; and how aware they were of OSCR and its work. Charities were asked about the challenges they faced and how satisfied they were in dealing with the Regulator.
Key points include:
Overall public trust in charities is around the same level as two years ago with a mean trust score of 6.14 out of 10 in 2018 compared to 6.08 in 2016.
Trust was higher for local charities than Scotland-wide, UK and international charities.
Public knowledge of OSCR has increased significantly. Members of the public who were aware of OSCR have greater levels of trust and 85% say that OSCR's role is important.
There was strong support for charities using the OSCR Registration logo on their materials. Results showed that a significantly higher proportion of people would donate to a charity with the logo included when compared to all other options.
OSCR's Chief Executive, David Robb, welcomed the reports and said:
'It is heartening to see that trust in charities has held up despite media reports of concerns raised around protecting vulnerable beneficiaries or the use of finances. This is a testament to the positive impact of the charitable work done by Scottish charities, and the dedication of their trustees, staff and volunteers.
'However, charities should not take public trust and confidence for granted. Our register is a fantastic resource but the public want further transparency from charities. I would urge them to share their stories in an open and honest way, even when things go wrong. By letting the public see the work they do, trust can only improve.
'Being the registrar and regulator of Scotland's 24,400 charities is a job we do with great pride, so it is pleasing for my hard-working team to see that these surveys also show that both the public and charities value OSCR's work within the sector.'

Background

The Scottish Charity Regulator (OSCR) is the independent registrar and regulator of Scotland's 24,400 charities and publishes the Scottish Charity Register at www.oscr.org.uk. Our vision is of charities you can trust and which provide public benefit. More information about our work can be found in our Media Pack.