4. When can you have your accounts independently examined?
4. When can you have your accounts independently examined?
Published: 18/04/2019
Updated: 18/04/2019
You can have your accounts independently examined as long as they don't need an audit. Most smaller charities will be allowed to have an independent examination. 
An audit is required if any one of these applies: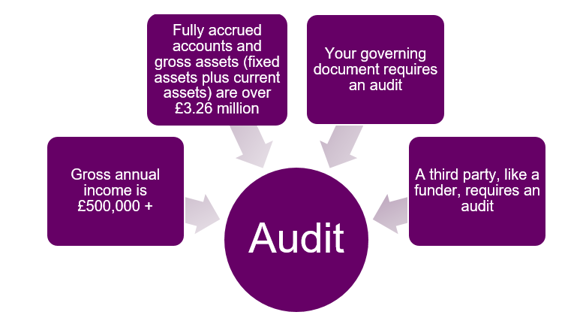 Requirement for audit in a governing document
A smaller charity will require an audit if its governing document requires it. It is important to check your governing document, if it refers to 'auditor' or 'audited accounts' then your accounts will require a full audit regardless of your income or assets. 
In many cases these words have been included in the governing document for a long time and it is not the intention of the charity trustees that a full audit should be undertaken. 
If your governing document states the accounts must be audited but there is no other reason why you should have an audit, then you should be able to change your governing document to remove the audit requirement.
To make a change you will need to follow the rules for making changes in your governing document and our guidance on Making changes to your charity.
Before changing to an independent examination you check if there are requirements by any third parties for a full audit.