We're ten years old!
25 Apr 2016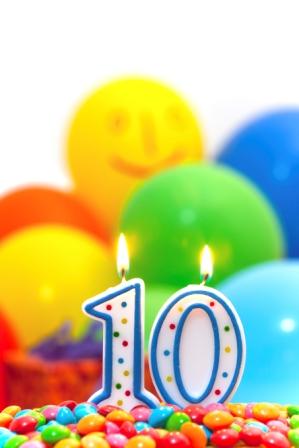 Scottish charity regulator marks ten years
Scotland's charity regulator, OSCR, has today [Monday 25 April 2016] marked ten years of registering, monitoring and guiding the country's 24,000 charities, by reflecting on its impact and setting out its vision for the future.   
OSCR, Scotland's independent charity registrar and regulator, took up its full powers on 24 April 2006 and, says chief executive David Robb, has both witnessed and brought about significant change in the sector during that time.
'Before OSCR was set up, charity regulation in Scotland was limited,' he said.  'In our ten years we've worked closely with charities to drive up standards, we've supported those running charities to be more transparent about their activities and to make the right decisions, and we've taken firm action where required.  We've also reviewed and refined our own structures and procedures to make sure that we are light-touch, proportionate and efficient and continue to reinforce public confidence in the years ahead'.
Read a summary of OSCR's impact here.

Read about the first 'new' charity here.
In April 2000, the then Scottish Executive set up the McFadden Commission to review the regulation of charities, in response to calls from the sector.  Its recommendations ultimately led to the Charities and Trustee Investment (Scotland) Act 2005 and the establishment of The Office of the Scottish Charity Regulator, OSCR. 
OSCR, based in Dundee, was established on a non-statutory basis in 2003 with four staff and began its work setting up the framework for charities before taking up its full regulatory powers on 24 April 2006.  Its launch event that day at the Corn Exchange in Edinburgh attracted nearly 900 charity representatives to meet staff and discuss the new reporting requirements.
Since then, OSCR has registered 9,102 new charities, removed over 8,000 'ceased' charities, granted consent to 8,450 changes to charities, and handled 2,663 external concerns about charities.
In summary:

OSCR's work has reinforced public confidence. Some 85% of the public feel that OSCR's role is 'essential' or 'important'.
OSCR's work has driven up standards.  In 2007, only 20% of charities with an annual income under £25,000 met requirements in preparing accounts – in 2016 the figure is 78%. 
        
OSCR's work has supported the charity sector.  In modernising and reorganising charities it has released an estimated £40 million back to the sector.
       
OSCR's work is supported by charities.  Some 92% trust OSCR to treat them fairly and 94% say that reporting to OSCR is now 'part and parcel' of what they do.

The regulator has also handled several high-profile cases and undertaken detailed reviews of particular types of charities, for example fee-charging schools and local authority Arms Length External Organisations, as well as producing a range of guidance and support materials for those in charge of charities.
OSCR's Chair, The Very Reverend Graham Forbes CBE, paid tribute to OSCR staff and the charity sector for working together to reinforce public confidence.  'We've undertaken a huge volume of work over the past ten years, setting up and maintaining the processes required to oversee the country's 24,000 charities as well as carrying out detailed examinations and reviews into what it means to be a charity.  All of this requires enthusiasm, expertise and sound judgement, and I congratulate OSCR's staff for their performance over the past ten years,' he said.  'We also recognise the support of the sector we regulate and look forward to the future equipped with priorities based on our experience to date.'   
'We are building on our experience to make sure that we continue to focus on the right areas in the right way,' added David Robb.  'Our new programme of Targeted Regulation, launched earlier this month, will see us targeting our attention on where it's required and will allow us to reassure the public that their continued confidence in charities and their work is justified.'
CHARITY REGULATION AT A GLANCE
The registrar and regulator has a number of statutory duties it must deliver under charity law.  In addition, it carries out regular checks on charities and has reviewed particular groups of charities to confirm whether they meet the required standards.
        There are just over 24,000 charities in Scotland, run by an estimated 180,000 charity trustees, on an almost entirely voluntary basis.
        OSCR is Scotland's independent regulator and registrar of charities.  It employs 50 staff and is based in Dundee.
        It considers applications for charitable status, publishes and maintains the Scottish Charity Register, encourages charities' compliance with the legislation, identifies and investigates apparent misconduct in charities, and advises Ministers on charity matters.
        The charity test in the Charities and Trustee Investment (Scotland) Act 2005 sets out the requirements that must be met for a body to become a charity, and to maintain charitable status.
        The online Scottish Charity Register lists every charity in Scotland and provides a summary of each charity's objects and financial information. Published at www.oscr.org.uk it is updated every working day and last year was visited over half a million times.
        The legal definition of 'charity' in Scotland is a body entered in the Scottish Charity Register.