Monday March 29, 2021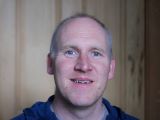 Lots of voluntary organisations have made huge strides in the past year, jumping into digital tools to keep their services running. But how far has your organisation come in the past 12 months, and where should you be going next? Will you be moving from 'digital duct tape' to something more long term?
SCVO's digital checkup is a free online tool that lets you measure your organisation's digital capability against organisations of a similar size. It's like an annual health check or an MOT for your car.
During the pandemic, using digital tools well often meant the difference between being able to keep operating and having to close or suspend services. So digital has become a 'must do' for organisations large and small.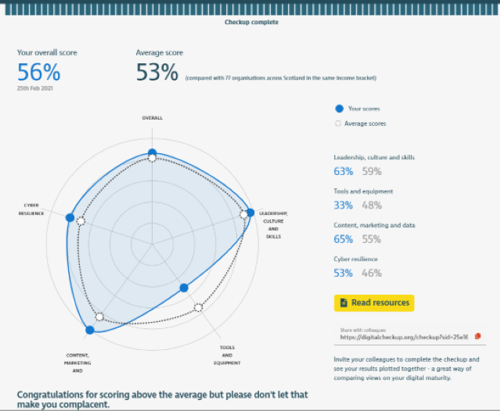 The digital checkup is an excellent starting point if you're wondering what you could do to improve your digital services and ways of working. When you complete the checkup, you'll get a clear picture of your organisation's strengths and weaknesses. People who have completed the checkup say they value the chance to reflect on all areas of their digital capability. And a digital checkup result is an excellent conversation-starter for leadership teams and trustees. The checkup result gives you an invaluable baseline and perspective on your digital capability. It can help you look at the whole picture to focus on priority areas where you can make some real progress.
More than 500 organisations have completed the digital checkup over the past couple of years, and over 100 organisations have taken up free 1-to-1 support to discuss their result in more detail and plan their next steps. 'Digital capability' covers a range of areas, including leadership and culture, tools and equipment, content, marketing and data and cyber security.
But it's not just about results. Once you've completed your digital checkup, you can book a free call with a digital expert from the SCVO team. You'll be able to talk through your result and plan your next steps. Themes on these support calls vary hugely – it can be about big picture strategic stuff, like which areas to prioritise, or it can be simple practical things like where to get free software and discounted hardware.
"The checkup call was very reassuring and I was able to implement some of the suggestions immediately. This was a huge relief and the support was invaluable."
So whatever the size of your organisation, whatever level of confidence you have with technology, a digital checkup could help you track your progress and plan your next steps. Thanks to the support of the Wm Grant Foundation, SCVO are now able to offer more 1-to-1 support calls. We are also preparing to conduct more real-time analysis of our checkup results, so that we can offer tailored support as the needs of the sector change in the months ahead.
Take your digital checkup and book free 1-to-1 support at: https://digital.checkup.scot