We are recruiting new Board members
01 Jan 0001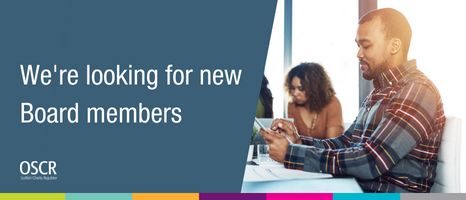 We are recruiting new Board members.
We are Scotland's Charity regulator and registrar for Scotland's 25,000 charities. We are a Non Ministerial Office (NMO) part of the Scottish Administration, working alongside but separate from the Scottish Government. We are accountable to the Scottish Parliament. We believe that the Scottish public should have faith that the countries 25,000 charities are well run, and building public confidence will allow these vital organisations to thrive and cement their place at the heart of our day to day life. We also know how challenging the last year has been for the charity sector, and we want to support their recovery where we can.
The OSCR Board sets the strategic direction and ensures that activities focus on the delivery of key priorities. The Board also sets the overall vision for OSCR and works with the Chief Executive to monitor performance.
We are looking for up to five new Board members. We welcome interest from individuals who may not have had previous Board experience, but who have the potential to contribute, who wish to develop their skills in this area and are willing to learn.
Full details of these appointments, including information on how to apply, can be found on the Public Appointments Scotland website. Applications close at midnight on 3 December 2021.