OSCR CEO to move on
14 Dec 2018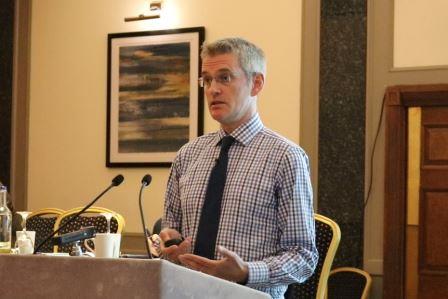 After seven years at the Scottish Charity Regulator (OSCR), Chief Executive David Robb will be leaving the organisation early in 2019. His new role will be as Chief Executive of the Student Awards Agency Scotland (SAAS).
David became OSCR's second Chief Executive in October 2011 following the departure of Jane Ryder.
Since then, David has overseen a change to more targeted regulation by the organisation - focusing OSCR's resources on areas that have the greatest impact on public trust and confidence in charities.
The recruitment process for a replacement will begin shortly.
OSCR Board Chair, The Very Revd Dr Graham Forbes CBE said,
'The Board would like to thank David for his contribution to OSCR. In his 7 years as Chief Executive Officer, we have become a proportionate, preventative, risk-based regulator, supporting charity trustees in their important work and also playing our role in Scotland's flourishing charity sector. The OSCR he leaves behind has become a 21st century light touch regulator promoting our vision of charities you can trust and stressing the public benefit they bring to us all in so many ways. Whenever I have taken part in our "Meet the Regulator" visits all over Scotland, I have always been impressed by the warm welcome OSCR receives, a tribute to David and all members of the OSCR team.
'An interim CEO will be appointed shortly, and the recruitment process for our new CEO will take place in the new year.  What is undoubtedly OSCR's loss is SAAS' gain, we wish David well in his new role.'
David Robb said,
'I have had seven very happy years here, and in many ways will be sad to leave.  It has been a great privilege to lead the talented team at OSCR and to work closely with Scotland's charities and all our stakeholders.  Charities make a hugely positive contribution to communities across Scotland, and I think OSCR's role in underpinning public trust and confidence in their good governance is now firmly established. I say often that good governance is a team sport, and I would like to thank everyone at Team OSCR for their support, and the many others who have assisted me over the years.'