Sending documentation
Published: 25/04/2017
Updated: 25/04/2017
Summary
In this section, you will be asked to tell us how you will submit your required additional documentation.
You should submit the following:
A signed copy of the charity's appropriate accounts
A signed Trustees' annual report
A signed auditor or independent examination report.
There are some templates for these documents on our website in the Receipts and Payments Accounts section. These templates apply to all non-company charities whose gross annual income is less than £250,000 (£100,000 for periods starting before 1 April 2011) and where there is no requirement within the charity's governing document or by funders to prepare accrued accounts.
We recommend that you send us the required documentation online.
Because we require a signature on the documentation however, you may have to print documents off and scan them back into your computer before uploading them.
If you choose to post your documents, we must receive them within 28 days of the online annual return submission. It is your responsibility to make sure we receive the documents.
If you choose to submit your documents online, the next screen will ask you to upload them.
A video explaining the process can be viewed below. Alternatively, please click on the expanding section after the video for instructions on how to upload your required documentation.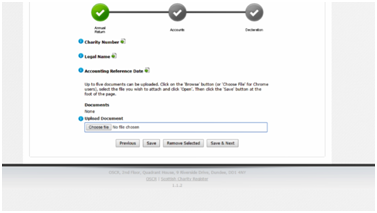 1. Click 'Choose file' and choose the document you are going to load. Please note that when you are uploading a file using OSCR Online, it cannot be larger than 8mb in total. Here are some tips on reducing your file size if it is too large.
2. Once you have selected the file, click 'Save' to add it to the list and add another.
3. When you have uploaded all of your documents, click 'Save & next' to continue.