Tuesday April 6, 2021

I wrote recently about the origins and aims of the Scottish Tech Army and I'm delighted to tell you that, in partnership with OSCR, the tech industry body ScotlandIS and Scotland's digital skills academy, CodeClan, we will be presenting the inaugural Tech for Good Summit on Wednesday 28th April 2021.
There is a huge amount of tech for good going on in Scotland and this amazing ecosystem has been transforming organisations and lives over the past year as it has responded to organisations in need. Now, however, we have an opportunity to 'switch things up' a bit by drawing all the components of this ecosystem to one place for a day of discussion, debate, discovery and challenge. Our aim is to find ways to aggregate our all efforts and amplify their impact by co-ordinating the many initiatives that already exist - as well as stimulating new collaborations.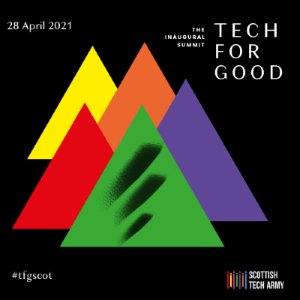 The summit will welcome participants from across the whole tech for good ecosystem – charities, business leaders, educators, SMEs and volunteers - for a day of inspiration, discussion, debate, collaboration and challenge. We are honoured to welcome Amanda Renteria, CEO of Code for America and Shonaig Macpherson MBE FRSE, Chair of the Robertson Trust, as our keynote speakers.
I encourage as many representatives from the third sector as possible to join us – your contribution to the debate is vital. How do we use technology to extend the reach of what you do? What challenges do you face that prevent the use of technology? What has to happen to bridge the gap between those who are digitally enabled and those who are excluded? The event is free/pay what you can and I can promise a day that will give you much food for thought.
Alongside all our speakers and discussion panels we will be running a Volunteers Assemble Challenge. We are looking for 'Digital Sparks' from you! We want 2 to 3 minute videos (landscape on a mobile fine) telling us who you are, what your problem is, how it affects your organisation and laying down the challenge for a digital solution. On the day, volunteers will assemble in teams and be given just over two hours to ask questions and propose an innovative solution. These will be voted on by the plenary and the Scottish Tech Army is committed to seeing to fruition the three most popular projects in collaboration with the teams and organisations.
This is a huge milestone - one year on from the launch of the Scottish Tech Army we will both celebrate what has been achieved by the amazing community of volunteers and organisations that make up the ecosystem and raise the bar for what can be achieved in the year to come and beyond.
Join us on Wednesday 28 April where we will explore the Art of the Possible, the Tech for Good Ecosystem and  shine a light on our Agents of Change – the volunteers. Register for the event here.
Upload your Digital Spark for the Volunteers Assemble Challenge to WeTransfer and email the link to us at events@scottishtecharmy.org
See you there!